Hi guys,
# I am currentry working on the additional part of this post.  Keep tuned!  IMHO, JR system is pretty easy and understandable, however, metro system is too difficult to explain.  Feel free to contact me if you are in trouble.  Thanks!
In the Tokyo area, the public transportation system is extremely efficient. More than 20 seconds of delay is regarded as "delay," and all trains run in time within 15seconds of the time window. At the same time, the railway matrix is too complicate to understand even if you are a native Japanese speaker. When I visit Akihabara area to buy some electronics materials, I always see a lot of foreign people are standing in front of a ticket vending machine to look for their destination.
So I will try to dissect Tokyo railway systems and explain all of you. Please Feel free to ask me your questions and let me know your ideas.
Basic rules
Several companies are engaged in train systems. JR lines, formerly JNR (Japan national railways) are now divided into six different private companies. In Tokyo area, all trains are run by JR East., except Tokaido Shinkansen (bullet trains bound for Osaka, Nagoya and Hakata – west region of Japan, are run by JR Tokai.)
Two corporations, which are the Tokyo Metropolitan Government (Toei lines) and Tokyo Metro Corporation, manage subway lines.
Other private companies run different trains such as Keisei, Keio, Odakyu, Tokyu, Seibu, and Tobu. Some of them are overlapped; others are not.
The colors ARE important.  JR East uses different colors to different lines.
Fare rules
The easiest way is to buy a prepaid card such as Suica or Pasmo. These two cards are almost identical. Only the difference is the issuer. You can get Suica card at JR station, Pasmo card at subway and private company's train station. If you don't like to purchase any of these cards and try to buy tickets by cash, it is tough to find the correct fare to your destination. If you are not sure after a few minutes' struggling, you can purchase the cheapest ticket and go through the gate, and go to the destination directly. You can pay the rest of the fare at the side of the exit of your destination station (by vending machines or in person.) However, if you need to change trains to different companies, you need to pay each gate at the exit.
We will begin with JR lines and other trains bound for two airports in the Tokyo area. I am thinking to add subways. However, subways network is too complicated to explain. Stay tuned to update the page. Thanks!
Tier 1: begin with a clock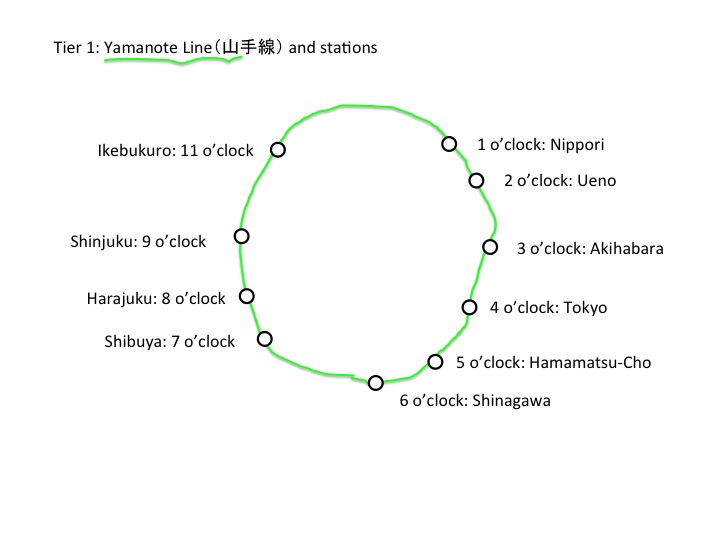 At first, draw a circle in green and put some station names.  I believe these stations are very important for tourists.  Basically you can trip wherever around Tokyo area by using Yamanote line.
Stations:
Nippori(1′) : if you want to use Keisei line (to Narita airport), this station is important.
Ueno(2′) : Northbound rapid lines, Ueno zoo, museums
Akihabara(3′) : Anime things, electric towns
Shinagawa(6′) : For Yokohama, Kanagawa and Shizuoka pref
Shibuya(7′) : Shibuya.  crossing, Hachi-dog.
Harajuku(8′) : Takeshita street, kawaii things
Shinjuku(9′) : Dungeon
Ikebukuro (11′) : Sunshine museum, Otome road
Tier 2: making a horizontal line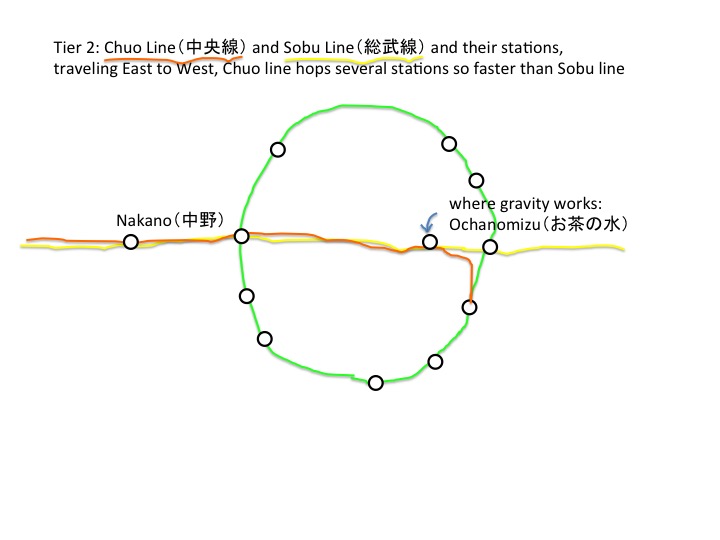 Draw two long horizontal lines from 3o'clock to 9'o clock.  An orange line represents Chuo line, whereas yellow line represents Sobu line.  You can jump Tokyo station(4′) to Shinjuku station(9′) by using Chuo line.  Chuo means "central" in Japanese.  Of course you can go to Akihabara(3′).  Nakano broadway sits 4 minutes distance from Shinjuku(9′).  Mitaka station is six stations far away from Nakano, which is the nearest station if you want to visit Ghibli museum.   Note Chuo line hops several stations compare to Sobu line.  Sobu line(yellow) usually runs between Mitaka/Nakano and Chiba.
Edit: add comments about Mitaka station, where Ghibli museum is.
Stations:
Tier 3: want to go to Narita and Yokohama??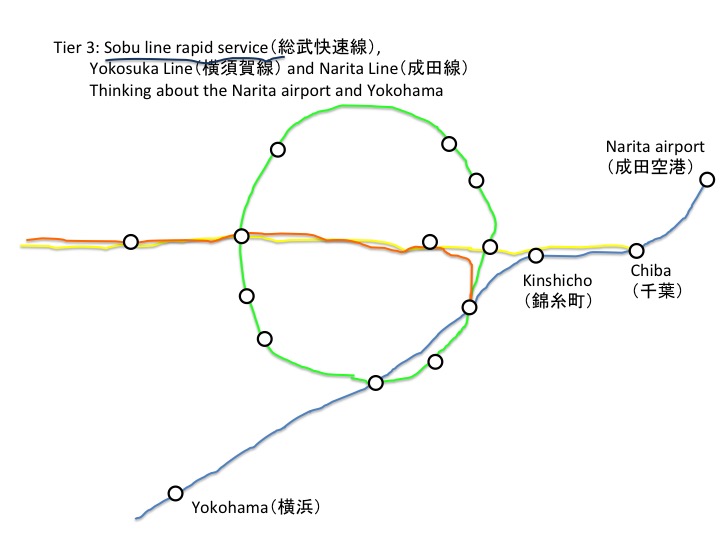 Drawn a blue line from top-right to down-left, named Sobu line rapid service.  Shares the same route with yellow(Sobu) line and separated at Kinshicho station.  This is rapid service – so you will pass several stations.  It stops at Tokyo station (again, 4′), Shinagawa (6′), then towards Yokohama station.
Stations:
Narita airport
Chiba
Kinshicho
Yokohama
Tier 4: another airport?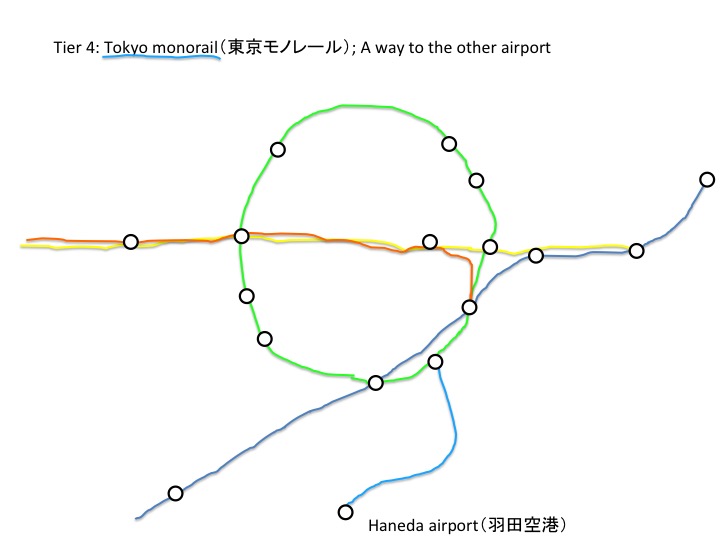 You can take a monorail from Hamamatsucho(5′).
Station:
to be continued if you give me a feedback…